Trust nature to clear the fog. Embrace a sharper mind, enhanced focus, and improved memory recall with the support of Lion's Mane Mushrooms.
Regular price
$69.95 USD
Sale price
$59.00 USD
Unit price
per
Sale
Sold out
🦁🍄 Want to save 50%? See details →

For a limited time you can stock up and save up to 50%. Here's how:

3 Bottles - Save 20%
6 Bottles - Save 30%
9 Bottles - Save 40%
12 Bottles - Save 50%


*Discounts applied automatically in checkout. You can mix different products and discounts will still apply.
100% Money Back Guarantee (90 Days)
View full details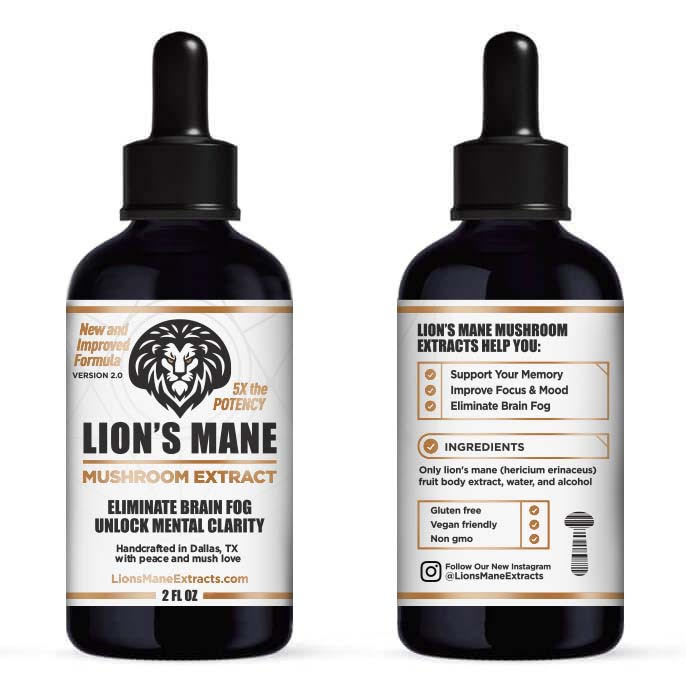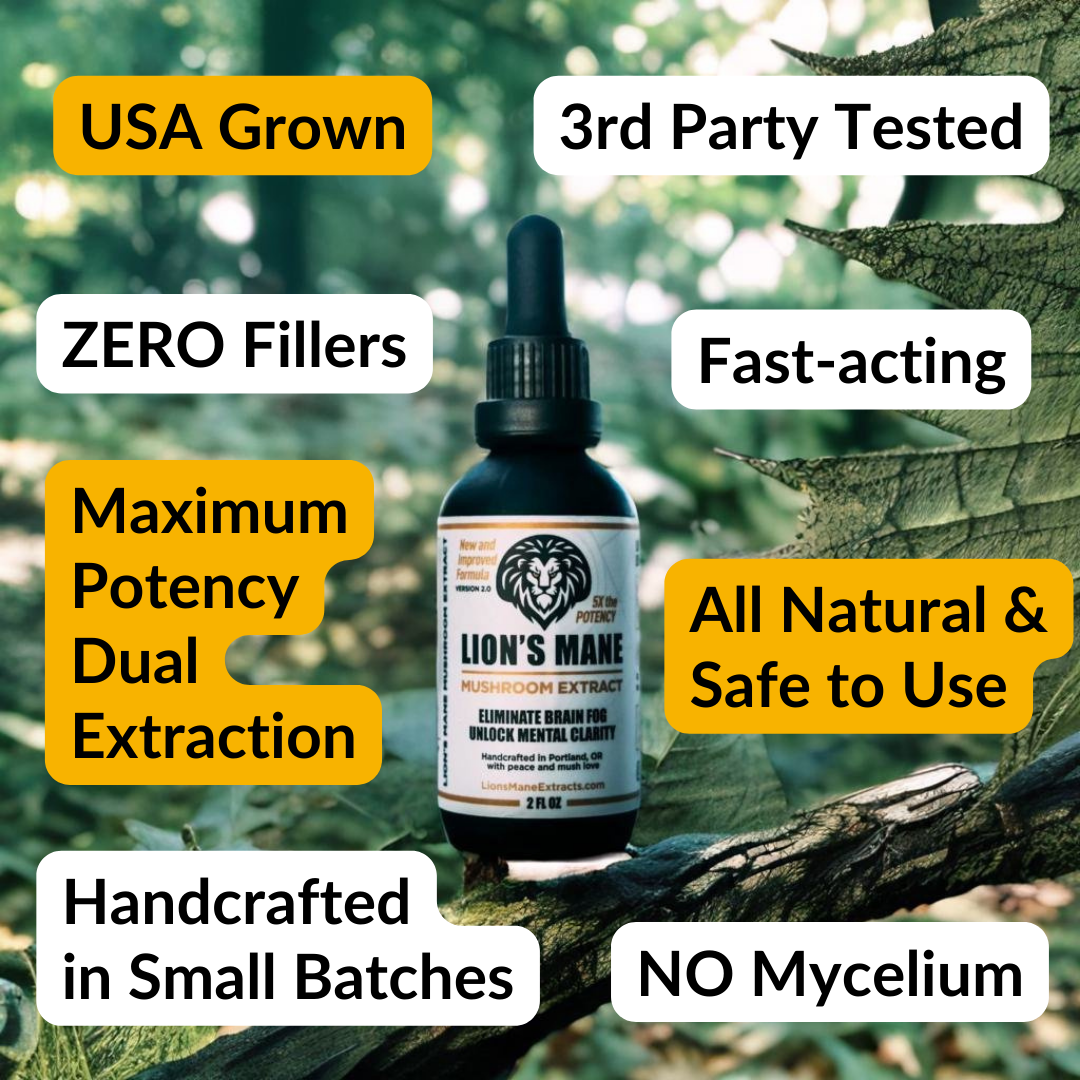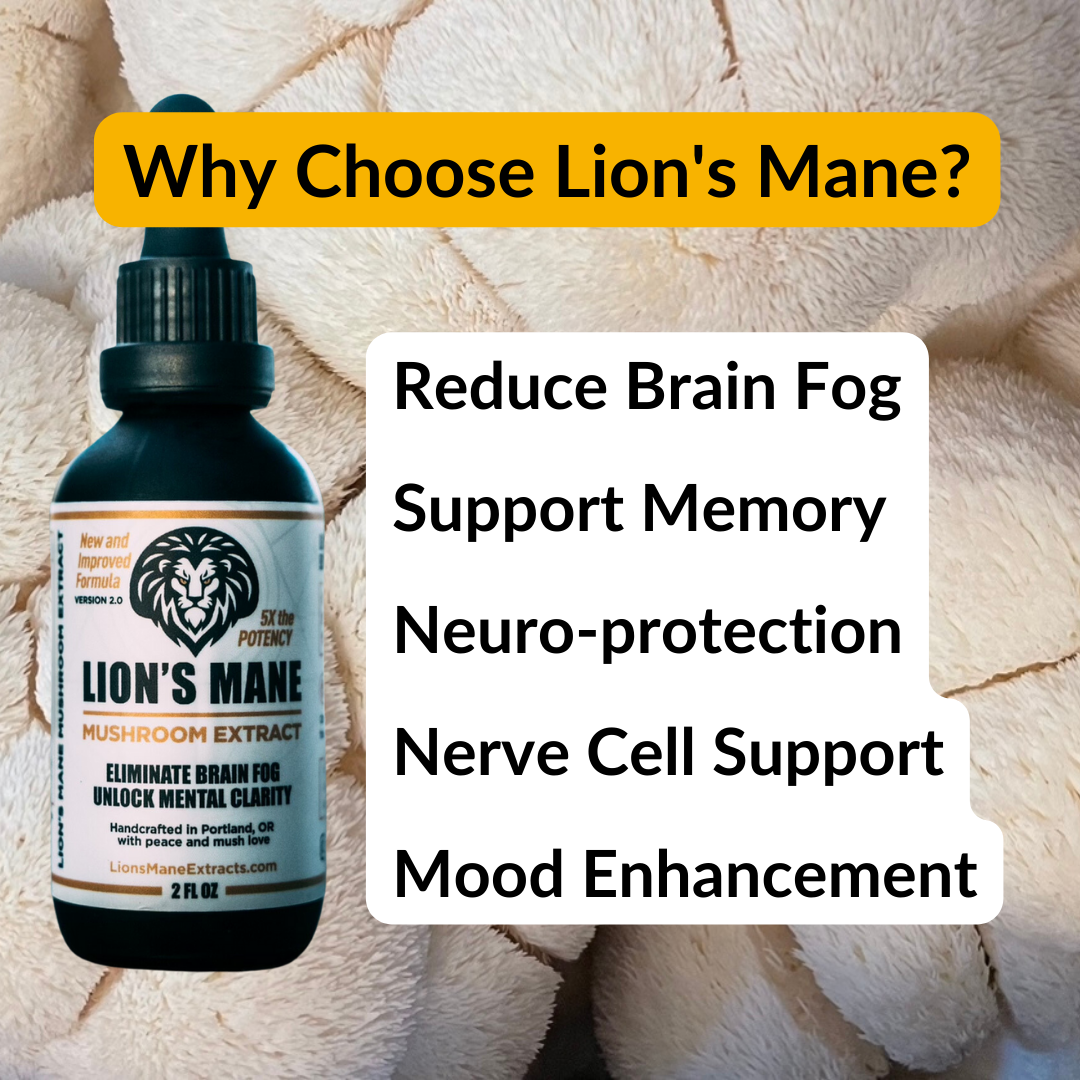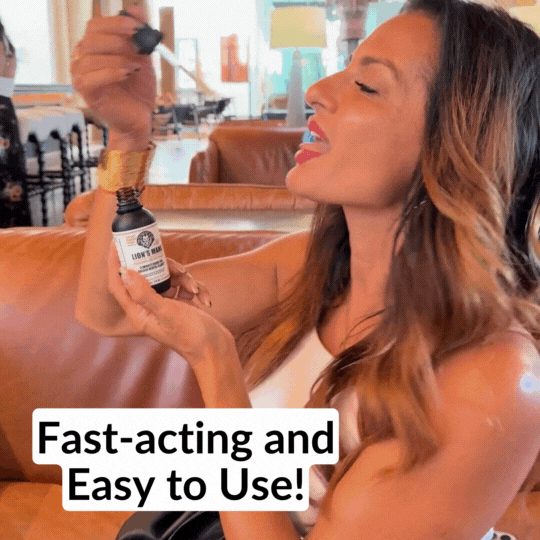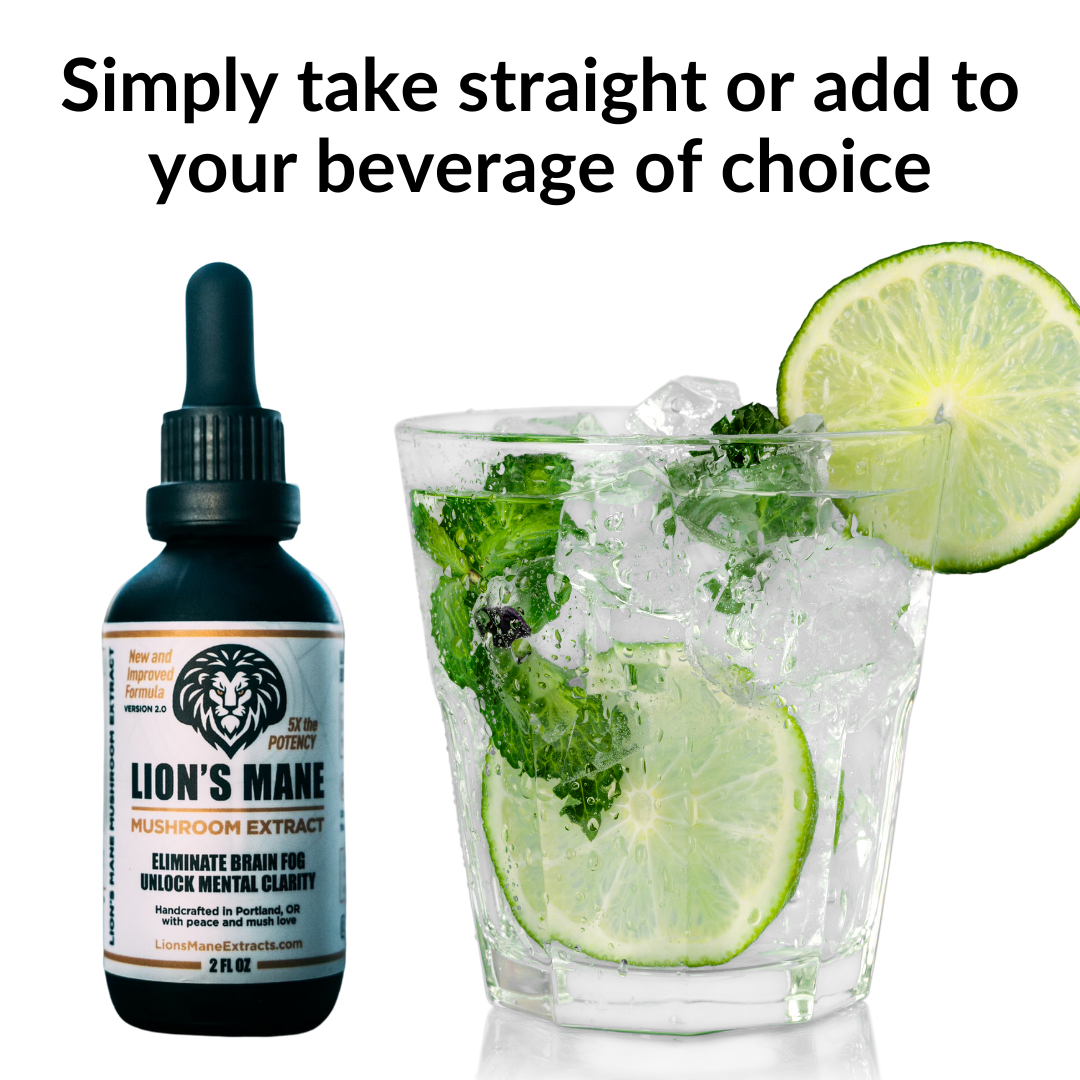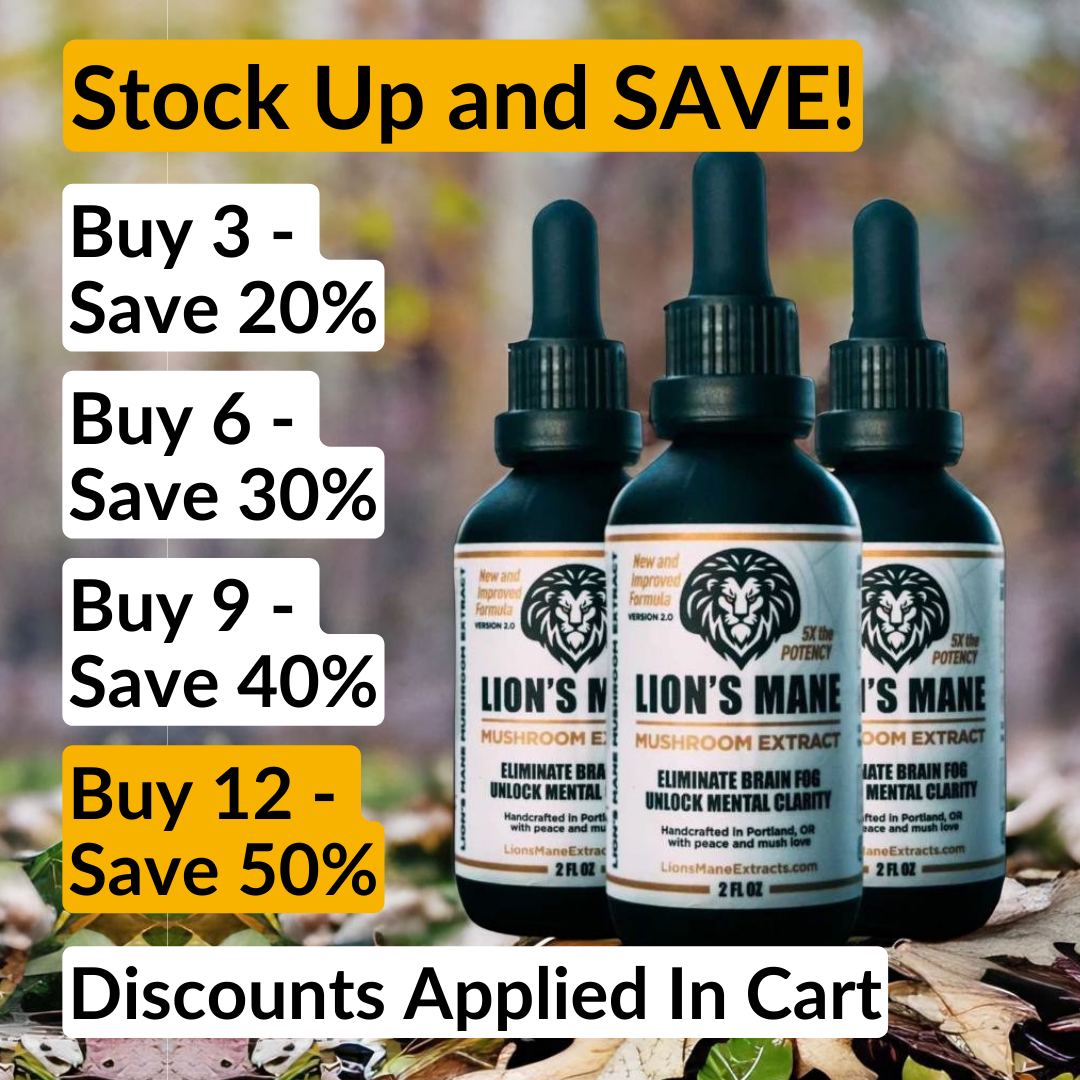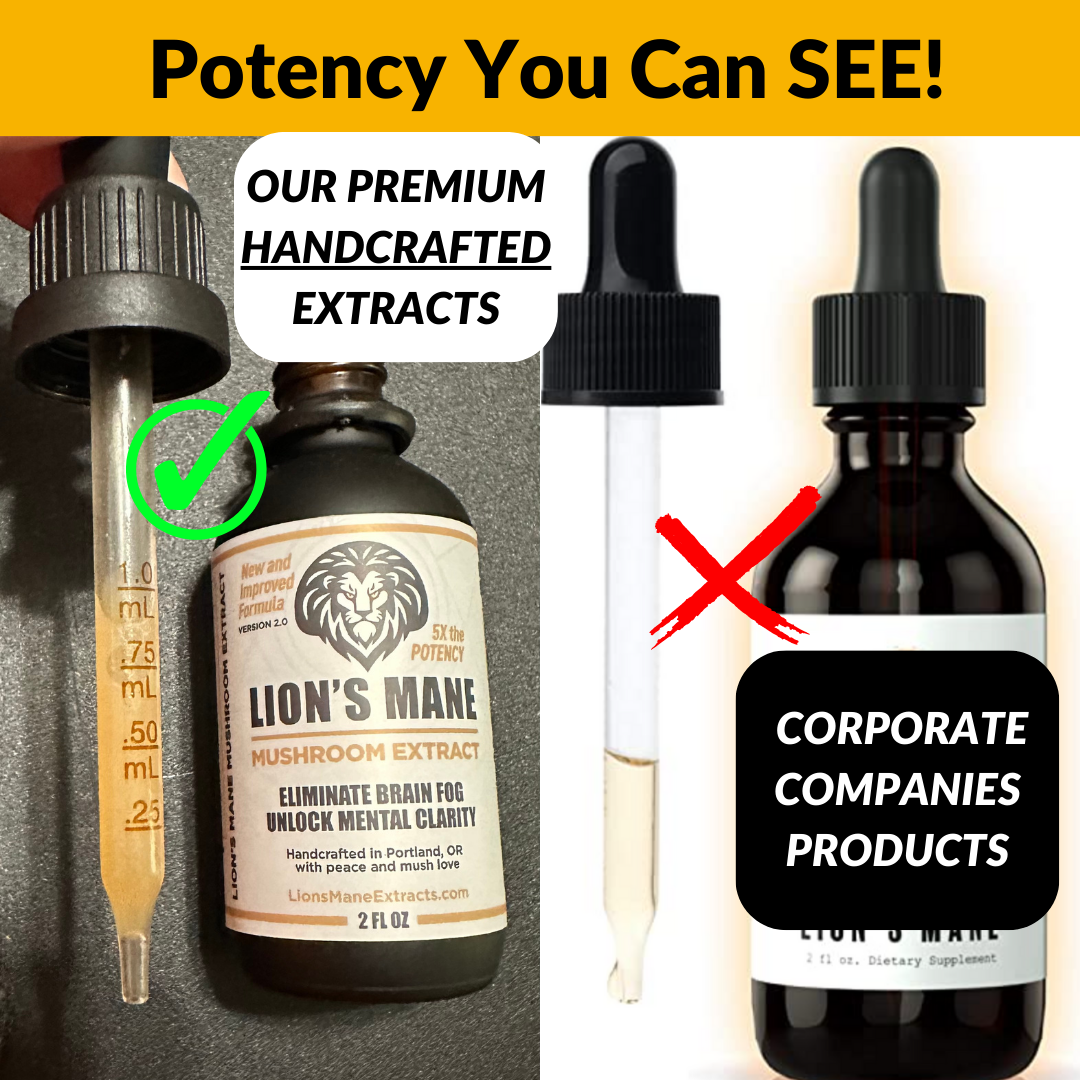 Unlock Mental Clarity With Lion's Mane Extracts
"Fast acting and easy to use. More potent than capsules and powders"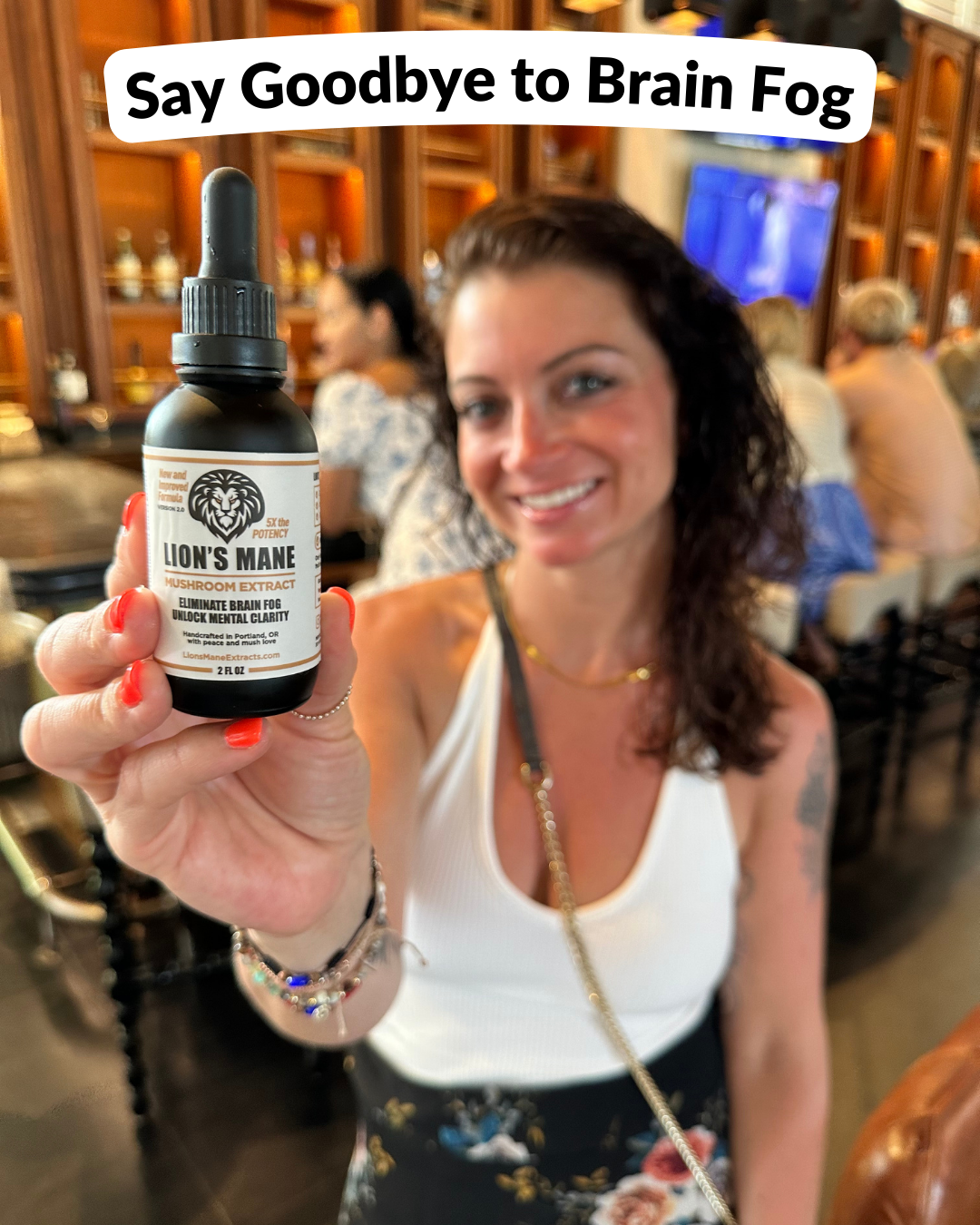 🌱 Clear The Fog, Naturally
"I kid you not I felt the results immediately. I took some first thing in the morning and brain fog was gone in about ten minutes and I felt so focused it was incredible." - Neckole K.
🧠 Maintain a Healthy Brain For Years to Come
"Since using your Lions Mane extract my mom has been more present. She is 90 and was drifting away sometimes. She is remembering things much better now! I was so worried that I was going to have to stop caring for her at her home. However now I feel that, with continued use, I will have a good chance to keep her at home." -Aeleysia O.

🚀 Boost Focus, Energy, and Motivation
"I have been using this product for a week now and have already seen improvement in my focus and motivation. I have struggled with focus in the first half of my day and now I accomplish more before lunch." - Patrick C.
Ingredients, Purpose, & How to Use
What is Lions Mane Used for?

Lion's mane extracts offer several potential benefits, including enhanced brain function, reduced inflammation, and overall well-being.

Ingredients:

Lion's Mane Fruiting Bodies (Hericium erinaceus), Organic Cane Spirits, Purified Water - That's it!

How to Use:

Mix 2ml (2 droppers) in water or swallow once per day at any time. Best effects felt on empty stomach.
Why Choose Premium Liquid Extracts
"I kid you not I felt the results immediately."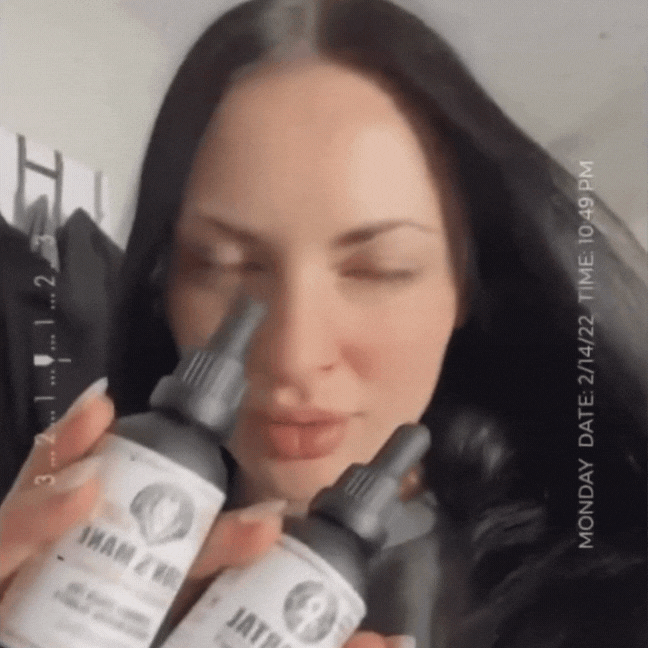 🌱 Natural Ingredients
There's only 3 ingredients in our ultra pure lion's mane extracts. Organic cane alcohol, pure water, and lion's mane fruiting bodies.
🦁 Dual Extraction
Our unique two-step extraction process breaks down the tough, indigestible fibers and a potent and effective lion's mane extract.

🇺🇸 USA Grown and 3rd Party Tested
Our mushrooms are USA grown and extracted in our Portland, OR facility. 3rd Party Verified for purity to guarantee safe products.
🍄 Fruiting Bodies ONLY
We use the highest quality fruiting bodies of the lion's mane mushrooms in our extracts and ZERO "mycelium mischief". Zero fillers of any kind.
How We Compare
"The quality and potency of this extract is second to none."
★★★★★
300+ Raving Reviews From Lion's Mane Lovers

Common Questions
What am I going to feel when I take Lion's Mane?

A subtle increase in focus and elevated moods are often reported within 15-30 minutes when taken on an empty stomach.

Over time, you'll notice memory support and improving cognitive ability.
Do your mushrooms contain mycelium?

No. We have vowed to use fruiting bodies only as most of the scientific research on lion's mane benefits proves fruiting bodies to be most effective.
Are your products 3rd party tested?

Absolutely! We take both quality and safety very seriously. That's why all of our mushrooms are tested for heavy metals, pesticides, microbial contamination and gluten, before and after being packaged in our Portland, OR facility.
Shipping and Returns

Products are shipped 1-2 days after ordered unless ordered on weekends (+2 days).

Products usually arrive within 3-5 days of ordering.

All products are backed by a 90 day 100% satisfaction guarantee and returns are super easy. Just email us at support@lionsmaneextracts.com and we'll be happy to serve you.
Amanda C.

"With my 3 year old boy I need all the mental energy I can get! This lion's mane keeps me alert and have enough leftover energy to be present with my family after work"

Stephanie M.

"I always bring it with me to meetings so I can feel 100% and confident the words I need will be on my tongue when I need them"

Kris A.

"The past couple weeks I've been taking this I notice a world of a difference with my focus, stress, and anxiety since I'm able to handle more things at once."